Our dogs are our family and they are a huge part of The Brightside. You will often see several of our dogs playing 'lifeguard' at the pool during swim lessons or helping to clean up the discs during frisbee lessons. In obedience lessons, you're likely to see "the face" of the Brightside....Hush, a 7 year old Border Collie who was born deaf! He is an inspiration to many and never stops teaching us new things. 

When the dogs aren't racing around the farm or helping us teach lessons, they also train and compete in a variety of performance dog sports: agility, dock diving, and frisbee are our main focus with some rally, conformation, lure coursing, and herding on the side. Dog sports are a great way to give a high energy dog a "job" or to help build confidence for dogs who are unsure...not to mention, it is just plain FUN! 

 
---
MACH2 PACH Player RN BCAT MXS MJB MXP2 MJP2 PAX DMA DSX AMX ASA PT
Meet Player....and yes, his name says it all! Player is a handsome 11 year old Border Collie. He is my fourth agility dog, third Master Agility Champion (MACH) and my first MACH2 dog. Player has had quite the remarkable performance career in agility, frisbee, and dock diving but is also titled in rally, fast cat (lure coursing), and herding. He has always been a "do it all" dog and we've had an amazing adventure together these past 10 years. 
He has many Regional and National wins in NADD Dock Diving, as well as has made Breed History for the first border collie to snag 21' in Air Retrieve. Player placed in the top 10 at the 2017 AKC Agility National Championship, as well as has won two World Championships in Skyhoundz Disc (where he also has set a World Record for in 2016, that still hasn't been beaten). He completed his final Agility Championship (PACH) a few days after his 11th birthday and is now retired. 
Hush RE SCN SIN OAP AJP NFP CA DCAT DSA DJX ASA CGC TKA
Hush, an 8 year old Border Collie,  is our whole heart and "the face" of The Brightside. He is an amazing dog who puts a smile on everyone's face. He is a talented boy, earning his Canine Good Citizen (CGC) title at 7 months of age and his Novice Dock Diving title (DN) at 14 months of age. He loves to play frisbee with Dean and has put up some very competitive scores and qualified for the 2016-2021 Skyhoundz Classic World Finals in distance/accuracy. Hush has competed in agility, lure coursing, scent work, and rally in addition to disc and dock diving. He competes in the highest level for both agility and rally. This boy loves life and has taught me more as a trainer in our last 8 years together than I had in my decade of dog training before him. You'll be sure to meet him in my obedience lessons and hanging around the office. He is my constant shadow and a complete love bug!
Glamour CGC TKN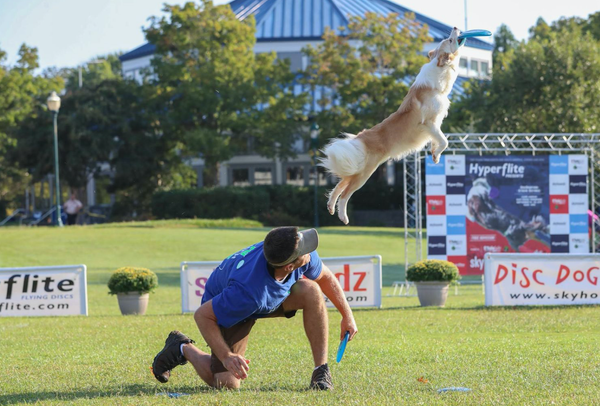 Glamour, a 6 year old Border Collie, is Dean's main freestyle dog. She has big air, tons of style, and not to mention....she is glamorous!!! This little diva is a crowd favorite with her super cool moves. In 2017 at her first World Finals in Frisbee, Glamour became a WORLD CHAMPION in both Microdog Frisbee and Distance/Accuracy, making her the third dog in the history of Skyhoundz Frisbee to win both divisions in the same calendar year. She has since won the World Championship two more times in Freestyle and D/A!
MACH Stella MXB MJB DMA DS PT
MACH Remedy RN MXS MJS NF