Our dogs are our family and they are a huge part of The Brightside. You will often see Stella, a 13 year old rescue Border Collie, play "lifeguard" during beginner swimmer lessons. In obedience lessons, you're likely to see "the face" of the Brightside....Hush, a 7 year old Border Collie who was born deaf! He is an inspiration to many and never stops teaching us new things. 

When the dogs aren't racing around the farm or helping us teach lessons, they also train and compete in a variety of performance dog sports: agility, dock diving, and frisbee. We currently have three Master Agility Champions (MACH), one National Champion in Dock Diving with several Regional Champions (including the #1 Border Collie in AR for several years in a row), and nine World Champion Disc Dogs, one World Record holder in disc and several AKC Conformation Champions (CH). Dog sports are a great way to give a high energy dog a "job" or to help build confidence for dogs who are unsure...not to mention, it is just plain FUN! 

 
---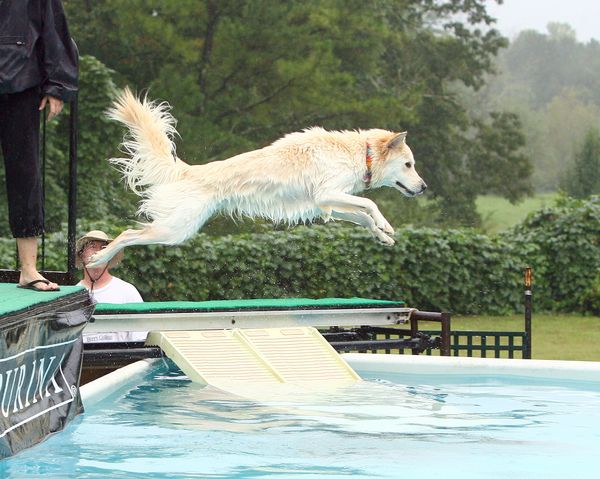 Meet Annie! Annie was rescued in May 2008 from the side of the road as a 7-8 week old puppy. She is a retriever mix and is a total love. She has always had a sweet nature and smart as a tack personality. Annie was my first agility dog and she introduced me to the sport of Dock Diving! Annie loved to play agility with me, but she loves trick training the most. Her favorite trick is blowing bubbles in a water dish! Annie is now a champion couch warmer and Dean's right hand farm hand. She loves rolling in the dirt and chasing off all the birds!
 
Our sweet Annie passed away March 2021, she is missed daily.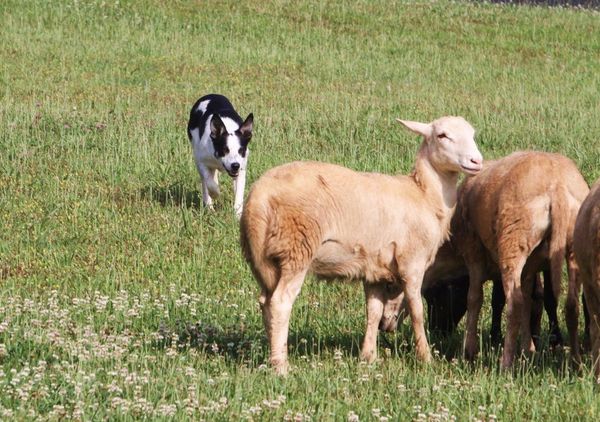 Meet Stella, a 13.5 year old rescue Border Collie. She was rescued from Cherokee Animal control....she is a typical "Border Collie" and definitely needs a job! Stella was my second agility dog and my first Master Agility Champion (MACh). She qualified for the AKC Agility Nationals in both 2012 and 2013. She loves dock diving and can often be found playing "Lifeguard" at our pool during swimming lessons. She takes this role very seriously. In addition to being a talented agility dog and dock dog, she excels in sheep herding and frisbee. Stella qualified in 2014 for the Skyhoundz World Finals and placed 4th in Time Trial at the Final!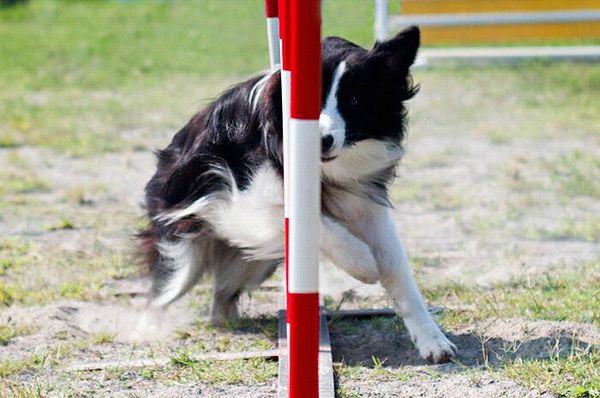 Meet Remedy, our princess! She is a 10 year old Border Collie. Remedy was my third agility dog and my second Master Agility Champion (MACh) and she is halfway to her second MACh! She qualified in 2012, 2013, and 2014 for the AKC Agility Nationals and qualified for the 2015 U.S Open. While she loves agility, frisbee is her passion. She has been a World Finalist for Skyhoundz and USDDN in 2013, 2014, and 2015. In 2015, she placed 1st at the World Finals to become a new World Champion in Pairs Distance and Accuracy. In 2016, Remedy became a two time World Champion -- this time in Bullseye. In 2017, she became a three time World Champion -- this time in Time Trial. Remedy is one of my main "go to" dogs when it comes to obedience lessons and demos. 

Remedy made her way to the Rainbow Bridge July 2020. She was suddenly diagnosed with a very rare form of cancer called Thymoma and was taken way too soon. She has left such a hole in our hearts!